Profile

Further ramblings of a self-made pauper
Unlike paper, it won't even make a decent palimpsest
Free Account
Created on 2011-07-28 10:43:32 (#938994), last updated 2017-06-06 (15 weeks ago)
25,382 comments received, 112 comments posted
9,840 Journal Entries, 1,018 Tags, 0 Memories, 12 Icons

About

Mini Bio
Puer tantus fio et effugam!
Having clocked the half-century, Our Hero stands at the beginning of his journey into the sixth decade of life. The trials and tribulations of middle age are something at which he has become accustomed to
cock a snook
1
, age being one of those things that just happens when you aren't paying attention.
A son of Shropshire, he has lived in London since March 1984, and in that time experienced the delights of the only slum in SW7, an otherwise esteemed postcode, a garret in Clapham, SW4, with a mad and aged Polish landlady, many years before the Poles were fashionable. Since being advised, despite paying his rent on time and up front for many years, that it was now time to leave Clapham, Our Hero moved to Whetstone, North London in February 2005. Barely had he settled in when one of his flat mates moved out. It is not believed that there is a causative aspect to the timing.
A little over a year later, he was adopted by
ellefurtle
and by October 2006, she had not moved in so much as stopped going home. Thus was domestic bliss achieved in the
Athenaeum Club
until June of 2008, when the other denizen, one
colonel_maxim
acquired the keys to the British Embassy in a particularly mountainous region of the world and Our Hero and his beloved found themselves moving a few hundred yards down the road to a newer and properly maintained abode,
The Carpathia
.
A further two years on and the lure of property ownership has taken us to the east. The east end of London, or historically, the west end of Essex, to Ilford, rather than
The East End
, which is not far away, but yet not where we are, for the purists. We now have a garden and the garden has foxes. And plants. Lots of plants. There may even be a Japanese soldier lurking in there, fulfilling his oath to his Emperor, blithely unaware a) that he could have gone home nearly 70 years ago, and b) there is a ton of junk mail awaiting him in Yokohama.
The new abode still lacks a name, but we're working on't.
Now sit back and enjoy:
"In 1972 a crack commando unit was sent to prison by a military court for a crime they didn't commit. These men promptly escaped from a maximum security stockade to the Los Angeles underground. Today, still wanted by the government, they survive as soldiers of fortune. If you have a problem, if no one else can help, and if you can find them, maybe you can hire the A-Team."
1
To cock a snook
: idiomatic phrase of defiance meaning "to thumb one's nose". Quite why thumbing a nose is a gesture of defiance is anyone's guess. I suppose that like many things in life, it's all in the wrist action.

What rating is your journal?
brought to you by Quizilla

MYSTERY CARROT AWARD
for website adequacy

Hey my brutha, can I borrow your games, computers, DVD, xbox, playstation, gamecube, anime, laptops, pdas, and comics?
No my brutha, you must buy your own.
Click Here
The Light that has Lighted the World

George Harrison

I've heard how some people, have said
that I've changed
That I'm not what I was
How it really is a shame
The thoughts in their heads,
Manifest on their brow
Like bad scars from ill feelings
they themselves arouse
So hateful of anyone that is happy
or 'free'
They live all their lives,
without looking to see
The light that has lighted the world

It's funny how people, just won't
accept change
As if nature itself - they'd prefer
re-arranged
So hard to move on
When you're down in a hole
Where there's so little chance,
to experience soul

I'm grateful to anyone,
that is happy or 'free'
for giving me hope
while I'm looking to see

The light that has lighted the world

======================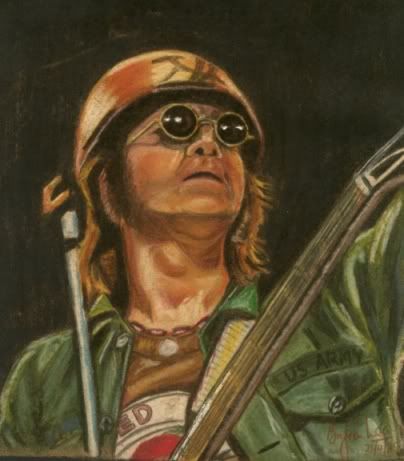 Give Peace A Chance
John Lennon, 1969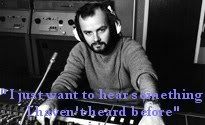 John Peel 1939-2004

Connect
21st century schizoid band,
addams family
,
albert camus
,
alexandre dumas
, allan quartermain,
angel
,
anglo-saxon
,
art
,
babylon 5
, barry the time sprout,
beer
,
bill the cat
,
bloom county
, blue meanie,
bonzo dog doo-dah band
,
buffy
,
byzantium
,
caravan
,
cardinal richelieu
,
cartoons
,
coffee
,
comedy
,
count of monte cristo
,
creative anachronism
,
cricket
,
cult tv
, cyborg nuns,
dad's army
,
daggers
,
digital image manipulation
,
dr who
,
dvd
,
eccentricity
, eccles cakes,
erotica
,
etymology
,
fairport convention
,
fantastic four
,
fantasy
,
fedora
,
football
,
forteana
,
frock coats
,
games
,
geography
,
geomorphology
,
george harrison
,
gillian anderson
, ginger geezer,
gothic horror
, h rider haggard,
heresy
,
history
,
horror
,
humour
,
ian mcdonald
, ian wallace, ingrained stupidity,
jane siberry
,
john lennon
,
kafka
,
kate bush
,
king arthur
,
king crimson
, labio-dental fricatives,
local history
,
louise brooks
, low puns high wit,
m*a*s*h
, matching mole, mel collins,
merrie melodies
, michael giles,
militaria
,
model making
,
monty python
,
moral turpitude
,
moustache-twirling villainy
,
movies
,
music
, napoleon iii,
neil innes
,
old maps
,
opus the penguin
,
painting
,
paul mccartney
, peter giles, peter sinfield,
pink floyd
,
politics
, post prandial brandy,
progressive rock
, raspberry parade, rawlinson's end,
reading
, resurrecting the word "rum",
rick wakeman
,
ringo starr
,
robert fripp
,
rock music
,
role-playing
,
sci-fi
,
sf
,
sharpe
,
shrewsbury
,
shrewsbury town
,
shropshire
,
silent movies
,
soccer
,
stargate sg-1
,
surrealism
,
swords
,
tardis
,
telly
,
the avengers
,
the beatles
,
the goons
, the grimms,
the munsters
,
the prisoner
,
the rutles
,
the simpsons
,
the three musketeers
,
tragically hip
,
trilby
,
trivia
,
trompe l'oeil
,
tv
,
vivian stanshall
,
wolverhampton wanderers
,
work avoidance
,
world domination
,
writing
,
x-files
, éminence grise

People
[View Entries]

Communities
[View entries]

Member Of (1):

Subscriptions (2):

Administrator Of (1):

Feeds
[View Entries]

Subscriptions (0)

Linking
To link to this user, copy this code:
On Dreamwidth:
Elsewhere: