More work completed on the TARDIS - I have added the base coat of paint. There was pretty much just enough supplied with the kit to give the model a single coat. In a couple of places I have had to add a different shade of blue to make it up, as there are several spots I missed and which only became apparent after the paint had dried. I think that I am going to have to add an all-over wash of the alternative paint with a little of yet a third hue before I start adding the paler weathering, or it will not look right.
The roof is not cemented to the rest and nor will it be - there is a battery operated mechanism in there that will hold the door open without the need for a small blue wedge as now, operate the lamp and produce suitable TARDISy noises. I have, however, been slightly let down either by my model-making skills and/or Airfix. I have had to apply a couple of pieces of plastic to the inside of the frame to hold the roof assemble snug when the door is open.
Attached below are a couple of shots showing the model as it is right now: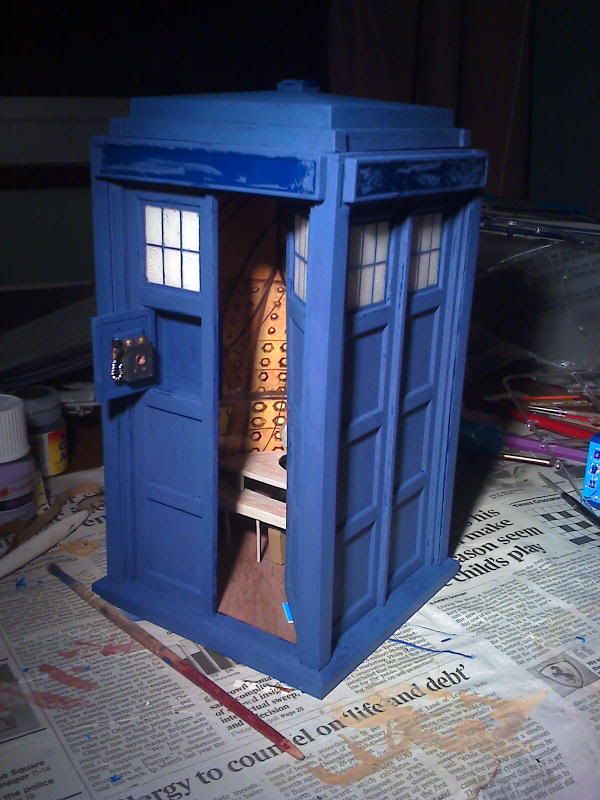 Basic build complete: door handles and lamp to be painted and attached.
( marginally different view behind cut to save bandwidth )
Once I am happy with the base colour, I shall dry brush a paler blue across the wood grain pattern that is clear on the model, but less so on these pictures. Following that come the decals - along the unpainted panels, "Police Box" and the cover for the telephone panel. The final step on the TARDIS itself will be a number of brown and black washes to give it a slightly grimy appearance. Odd that it is easier achieved on a model by applying paint than leaving out in the rain...
Then, the Doctor and Martha.
They
will be a challenge.